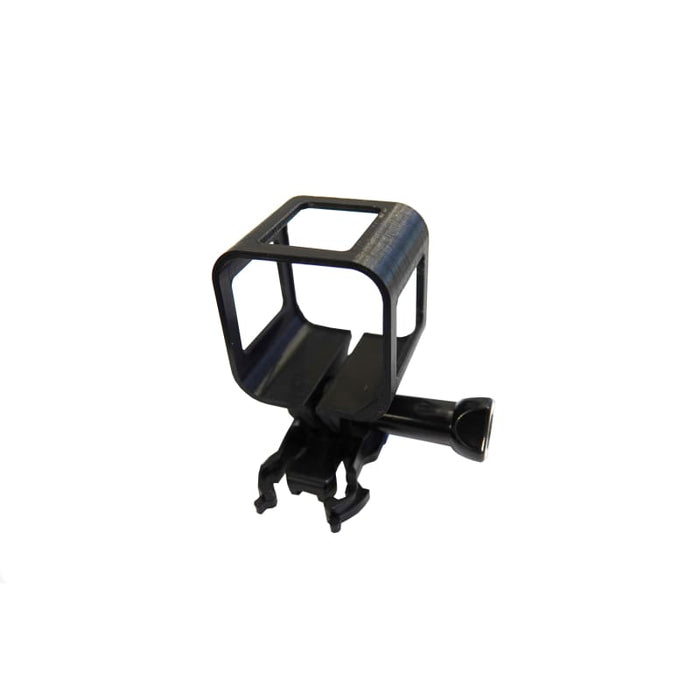 3D Printed Session (4+5) Naked Frame Housing
Original price
R149.00
-
Original price
R149.00
Delivery time
24-48 HOUR EXPRESS SHIPPING AVAILABLE
Found a lower price? Price Matching available.
Call or WhatsApp us on 0845590801
Introducing our innovative 3D Printed Session (4+5) Naked Frame Housing, designed to enhance your photography and videography experience like never before. This cutting-edge housing is meticulously crafted using advanced 3D printing technology, ensuring a perfect fit for your Session (4+5) camera.
With its sleek and minimalist design, our Naked Frame Housing allows you to capture stunning footage without any obstructions. The open-frame construction provides easy access to all buttons and ports, allowing you to effortlessly adjust settings and connect accessories. Say goodbye to bulky and cumbersome housings that hinder your creativity!
Crafted from durable and lightweight materials, this housing offers superior protection for your Session (4+5) camera, safeguarding it against accidental bumps and scratches. Its rugged construction ensures durability, making it perfect for all your adventurous pursuits.
Experience the freedom of capturing immersive footage with our Naked Frame Housing. Whether you're into extreme sports, underwater exploration, or simply documenting your everyday adventures, this housing is your ultimate companion. Its compact and portable design allows you to take it anywhere, ensuring you never miss a moment.
Invest in our 3D Printed Session (4+5) Naked Frame Housing and unlock endless possibilities for your photography and videography. Join our community of passionate creators and elevate your content to new heights. Don't settle for ordinary, choose extraordinary with our innovative housing. Order now and start capturing your world in a whole new way!
Shipping & Returns

WHAT ARE MY DELIVERY OPTIONS?

Xtreme Xccessories offers 4 convenient delivery options:

COURIER:

We deliver directly to your home or office, anywhere in South Africa. All delivery and tracking details are supplied to you once your order payment has been processed.

COLLECT:

You can choose to collect from our store, 6 Hely Street, Maitland, Cape Town during open hours.

CAN I ORDER FROM A LOCATION OUTSIDE SOUTH AFRICA?

Yes, you may, but extra charges will apply as standard and express delivery is only valid on deliveries made within South Africa.

DELIVERY COST AND TIME?

We offer reliable delivery services via trusted third-party courier services to anywhere in South Africa. Each parcel is packed with care and insured. We'll need your daytime address for door-to-door delivery and, once sent, provide you with the tracking number for the parcel.

DELIVERY OPTIONS*

Express Delivery (2-4 business days from R119 on orders below R1000) to anywhere in South Africa.

Ultra Express Delivery (1-2 business days from R249) to main areas only.

To arrange Saturday delivery on special request, call or WhatsApp us on 0845590801.

*TERMS & CONDITIONS

All prices are only estimates based on the flat rate incl. VAT for sending a parcel of up to 5 kg in volumetric and physical weight. We reserve the right to increase the delivery cost on any parcel that exceeds this weight accordingly.

Express Delivery prices are based on delivery to main areas like Bloemfontein, Cape Town, Durban, East London, Johannesburg, Polokwane, Port Elizabeth and Pretoria; however, surrounding areas may be excluded.

Delivery to remote areas are subject to additional charges.

The delivery periods are only estimates and exclude the collection day.

The delivery period is subject to strikes, severe weather conditions and third-party delivery services. Orders are sent within normal working hours except on weekends and/or on public holidays. We will send orders received before 14:00 on the same day, and orders received after 14:00 the following day, depending on order volumes.

Orders over R 1000 are free only on the first attempt, so ensure that you're ready to receive as extra charges may apply to parcel reroutes.

Business days are defined as Mondays to Fridays, excluding public holidays. Note that delivery to PO Boxes may take longer as parcels are handled by the South African Post Office.

CAN I CHANGE MY DELIVERY ADDRESS?

We, unfortunately, can't make changes to your delivery address once payment has been received and you have received your Payment Confirmation email.

WHO CAN SIGN FOR MY PARCEL?

Our couriers deliver door-to-door, which means that the parcel is delivered to the address and not the person unless otherwise specified. So if the parcel is delivered to the address, it is confirmed as delivered, whether left at reception, staff or security.

HOW DO I TRACK MY ORDER ONLINE?

Once we've received your order, we'll send you an email with tracking details. If in doubt, contact us... WHAT IF AN ITEM IS OUT OF STOCK / AWAITING STOCK?

Our website inventory is automatically updated multiple times daily to show if an item is "In Stock" or "Out Of Stock", however, should for any reason any goods not be in stock, we will contact you immediately to make the appropriate arrangement.

If an "Out of Stock" status appears, please feel free to call to get an estimated time of arrival. "Out of Stock" does in no way mean it's a permanent condition and it will change daily.

If some of the requested items are out of stock and others are in stock, one of our consultants will contact you to enquire if you want part or full shipment.

THE FINE PRINT

Xtreme Xccessories gives its utmost to serve customers as quickly as possible. In actual fact, it excites us to do it quicker every day. It is, however, a reality that delivery companies are sometimes subject to strikes and other delays, hence the need for more than one courier company. It is most certainly in the minority that a problem arises. Should any delay happen, we will follow up, lodge and handle queries with the particular courier company.

If you have any queries please contact sales@xtremexccessories.co.za or call or WhatsApp us on 0845590801.