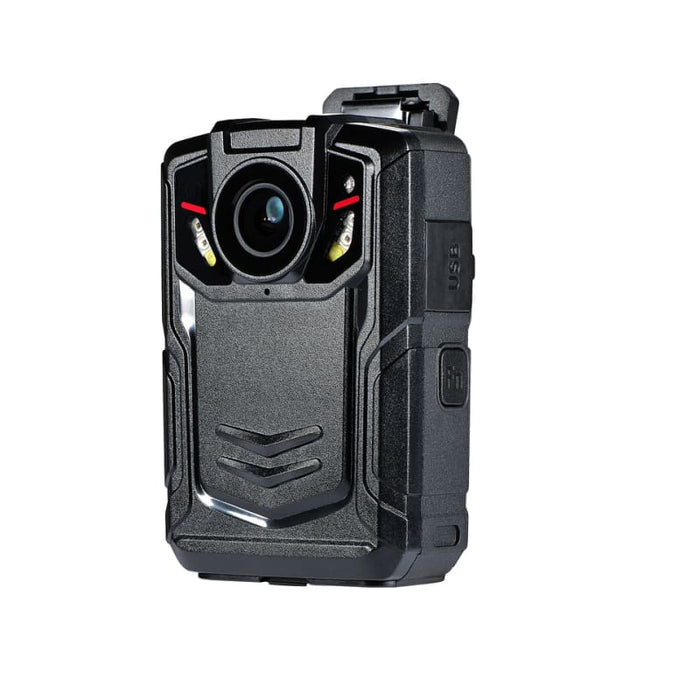 Xtreme BC 102 G4 Body Camera / Body-Worn Video (BWV) System With 4G, WiFi,GPS & 64GB Memory
Original price
R7,320.00
-
Original price
R7,320.00
Delivery time
24-48 HOUR EXPRESS SHIPPING AVAILABLE
Found a lower price? Price Matching available.
Call or WhatsApp us on 0845590801
 Body cameras, also known as body-worn cameras or body-worn video (BWV) systems, have gained significant attention and adoption in various fields due to their potential benefits. Here are some key advantages of using body cameras and the potential users who can benefit from their deployment:

**Benefits of Using Body Cameras:**

1. **Transparency and Accountability:** Body cameras provide an objective and unfiltered account of events by capturing video and audio footage from the perspective of the wearer. This can enhance transparency and accountability in various situations, including interactions with the public, law enforcement activities, and workplace incidents.

2. **Evidence Collection:** Body cameras can serve as valuable evidence in legal proceedings. The recorded footage can provide an accurate record of events, help resolve disputes, and protect both parties involved by ensuring an unbiased account of what transpired.

3. **Improved Behavior:** The presence of body cameras can encourage positive behavior and de-escalation, as individuals are more likely to act responsibly when they know their actions are being recorded. This is particularly relevant in law enforcement, security, and customer service industries.

4. **Enhanced Training:** Body camera footage can be used for training purposes. Organizations can review the footage to identify areas for improvement, assess the effectiveness of protocols, and provide real-life scenarios for training exercises.

5. **Public Perception:** The use of body cameras can enhance public trust and confidence in institutions that deploy them, such as law enforcement agencies. Knowing that interactions are being recorded can help mitigate concerns about abuse of power and bias.

6. **Documentation of Evidence:** In healthcare, body cameras can be used by medical professionals to document procedures, patient interactions, and consultations, which can be valuable for medical records, education, and quality assurance.

7. **Emergency Response:** First responders, such as firefighters and paramedics, can use body cameras to document emergency situations and gather critical information that can aid in post-incident analysis and investigations.

8. **Workplace Safety:** Industries like construction, manufacturing, and utilities can use body cameras to document safety protocols, identify hazards, and ensure compliance with safety regulations.

**Who Should Use Body Cameras:**

1. **Law Enforcement:** Police officers can use body cameras to record interactions with the public, gather evidence, and enhance accountability and transparency.

2. **Security Personnel:** Security guards, private investigators, and bouncers can use body cameras to document incidents, ensure their safety, and prevent potential conflicts.

3. **Healthcare Professionals:** Doctors, nurses, and other medical staff can use body cameras to document patient interactions, medical procedures, and consultations.

4. **First Responders:** Firefighters, paramedics, and emergency medical technicians can use body cameras to document emergency situations and provide critical information to other responders.

5. **Retail and Customer Service:** Retail employees and customer service representatives can use body cameras to document interactions with customers and address disputes.

6. **Journalists and Media Personnel:** Journalists and reporters can use body cameras to capture on-the-ground reporting, interviews, and events.

7. **Field Workers:** Workers in industries such as construction, utilities, and maintenance can use body cameras to document work processes, safety protocols, and compliance with regulations.

8. **Educators:** Teachers, trainers, and educators can use body cameras to record classroom activities, training sessions, and workshops.

Ultimately, the decision to use body cameras should be made with careful consideration of privacy concerns, legal regulations, and the specific needs of the organization or individual using them. Proper policies, guidelines, and training should be implemented to ensure responsible and ethical use of body cameras.
Details Spec
< 6 Seconds (From power on to recording)

GUI (Graphic User Interface)

2 inch Full HD LCD screen

2688x1512,2560x1440,1920x1080

1512p25,1440p30,1080p60,1080p30,

Video and Audio synchronization
2 Independent Video Streams for Local Record and Remote View

H.264(MP/HP Level 5.1)/H.265(MP Level 5.0)

1x MIC input, optional external intercom audio input

2.5mm jack for headphone, microphone and PTT

PCM format (AAC optional)

Support audio only recording, one key switch between Audio and Video record mode

2688x1512,2560x1440, 1920x1080,

Support snapping during recording(photo resolution same as recording video)

Built in 32GB TF card(optional for 64~256GB)

Up to 10 Meters at 0 lux with Visible shape image

lock image center or pointing

Support for cluster intercom between terminal devices (only for 4G/3G device)

Support intercom between server and terminal devices (only for 4G/3G device)

SOS key press will be noted on the platform (only for 4G/3G device)

1x USB,for charging, communication with PC, connect external HD camera

TCP/IP, RTSP, RTMP, GB/28181  (only for 4G/3G device)

built in 3G/4G module(FDD-LTE/WCDMA/GPRS)  (only for 4G/3G device)

Optional,support WIFI Client and AP mode

GPS/GLONASS(optional),location and speed can be used in local record and remote view, excellent signal quality with cold start <25 seconds

Deep learning face recognition, huge local blacklist or cloud recognition (Optional )

Burn in date, time, device ID, officer ID, location, speed

Can be enabled or disabled

Support local playback of video, search video files by time, alarm, etc.

Support online playback and downloading remotely (only for 4G/3G device)

Support paired call, Cluster call  (only for 4G/3G device)

Maximum 20s pre-recording and post-recording

Support deWarp before encoding(>115 degree), support maximum 8X digital zoom

Limited for only video and audio recording, photographing or other basic operations

Support Record encryption, encrypted video can be only played in special player

Record key operation, setting change, events, alarms and other information

Play back video files on the PC and analyze data information in the file.

Remote live view/real-time positioning/track playback/intercom/monitoring/remote command delivery, etc. (only for 4G/3G device)

Firmware can be upgrade though USB or Internet (only for 4G/3G device)

Fast charging@2A, USB data transmission, Splicable

synchronize date and time with GPS, internet, PC

2 Independent Video Streams for Local Record and Remote View

Restore with factory default setting

Charging, Idle, Video Record, Snap, Audio record

2pcs 2700mAh main battery for 1080p30 continuous recording up to 8.5h +8.5h

2pcs 2700mAh main battery for continuous 4G remote view up to 5h+5h
Server cost:
For 4G devices, there are two options for servers:
1. Clients can use our server, which is free of charge for the first year after purchasing the device. After the first year, there is a fee of $9 per device per year to use our server.
2. Clients can set up their own server. The server software will be provided for free if clients choose to set up their own server. 
Shipping & Returns

WHAT ARE MY DELIVERY OPTIONS?

Xtreme Xccessories offers 4 convenient delivery options:

COURIER:

We deliver directly to your home or office, anywhere in South Africa. All delivery and tracking details are supplied to you once your order payment has been processed.

COLLECT:

You can choose to collect from our store, 6 Hely Street, Maitland, Cape Town during open hours.

CAN I ORDER FROM A LOCATION OUTSIDE SOUTH AFRICA?

Yes, you may, but extra charges will apply as standard and express delivery is only valid on deliveries made within South Africa.

DELIVERY COST AND TIME?

We offer reliable delivery services via trusted third-party courier services to anywhere in South Africa. Each parcel is packed with care and insured. We'll need your daytime address for door-to-door delivery and, once sent, provide you with the tracking number for the parcel.

DELIVERY OPTIONS*

Express Delivery (2-4 business days from R119 on orders below R1000) to anywhere in South Africa.

Ultra Express Delivery (1-2 business days from R249) to main areas only.

To arrange Saturday delivery on special request, call or WhatsApp us on 0845590801.

*TERMS & CONDITIONS

All prices are only estimates based on the flat rate incl. VAT for sending a parcel of up to 5 kg in volumetric and physical weight. We reserve the right to increase the delivery cost on any parcel that exceeds this weight accordingly.

Express Delivery prices are based on delivery to main areas like Bloemfontein, Cape Town, Durban, East London, Johannesburg, Polokwane, Port Elizabeth and Pretoria; however, surrounding areas may be excluded.

Delivery to remote areas are subject to additional charges.

The delivery periods are only estimates and exclude the collection day.

The delivery period is subject to strikes, severe weather conditions and third-party delivery services. Orders are sent within normal working hours except on weekends and/or on public holidays. We will send orders received before 14:00 on the same day, and orders received after 14:00 the following day, depending on order volumes.

Orders over R 1000 are free only on the first attempt, so ensure that you're ready to receive as extra charges may apply to parcel reroutes.

Business days are defined as Mondays to Fridays, excluding public holidays. Note that delivery to PO Boxes may take longer as parcels are handled by the South African Post Office.

CAN I CHANGE MY DELIVERY ADDRESS?

We, unfortunately, can't make changes to your delivery address once payment has been received and you have received your Payment Confirmation email.

WHO CAN SIGN FOR MY PARCEL?

Our couriers deliver door-to-door, which means that the parcel is delivered to the address and not the person unless otherwise specified. So if the parcel is delivered to the address, it is confirmed as delivered, whether left at reception, staff or security.

HOW DO I TRACK MY ORDER ONLINE?

Once we've received your order, we'll send you an email with tracking details. If in doubt, contact us... WHAT IF AN ITEM IS OUT OF STOCK / AWAITING STOCK?

Our website inventory is automatically updated multiple times daily to show if an item is "In Stock" or "Out Of Stock", however, should for any reason any goods not be in stock, we will contact you immediately to make the appropriate arrangement.

If an "Out of Stock" status appears, please feel free to call to get an estimated time of arrival. "Out of Stock" does in no way mean it's a permanent condition and it will change daily.

If some of the requested items are out of stock and others are in stock, one of our consultants will contact you to enquire if you want part or full shipment.

THE FINE PRINT

Xtreme Xccessories gives its utmost to serve customers as quickly as possible. In actual fact, it excites us to do it quicker every day. It is, however, a reality that delivery companies are sometimes subject to strikes and other delays, hence the need for more than one courier company. It is most certainly in the minority that a problem arises. Should any delay happen, we will follow up, lodge and handle queries with the particular courier company.

If you have any queries please contact sales@xtremexccessories.co.za or call or WhatsApp us on 0845590801.